Monitor Icon Award Recognizes APPROVE CEO as Disruptor in Equipment Finance Industry
October 19, 2022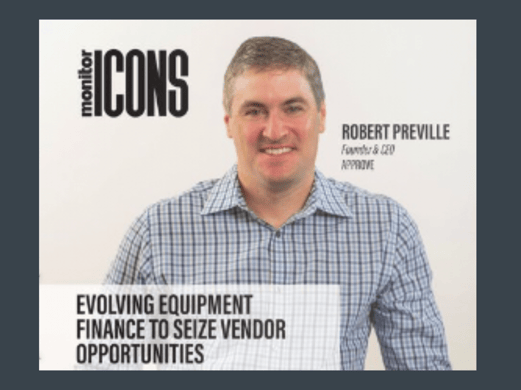 Contact: Robin Salter, CMO
Phone: 910-350-3203
Email: rsalter@approvepayments.com
FOR IMMEDIATE RELEASE
Monitor Icon Award Recognizes APPROVE CEO as Disruptor in Equipment Finance Industry
Industry leaders laud APPROVE as a game changer in how customers pay for equipment
ORLANDO; Oct. 19, 2022—APPROVE Founder and CEO Robert Preville received the Monitor Disruptor Icon award last week as part of the Monitor's 2022 Icon Awards announced in the convention magazine that circulated at the Equipment Leasing and Finance Association's 61st annual event in Orlando.
"Preville's approach to leadership and equipment finance as well as his uncanny background differentiate him and his company from others in the equipment finance space," wrote the Monitor.
Launched in 2019, the annual Icon awards are presented to five leaders in the equipment finance industry, each for a specific contribution. The Disruptor Award given to APPROVE honors "an innovator and game changer, an individual challenging the status quo and breaking new ground," according to the Monitor. Winners are selected by the Monitor editorial board, a broad cross section of leaders in the equipment finance industry.
APPROVE is changing the status quo of B2B equipment sales by enabling vendors and manufacturers to embed tech-driven financing tools into every point of influence along the buyer's journey—from search-engine ads for equipment to a custom financing application that buyers can complete in a matter of minutes.
APPROVE's software solution is linked to a network of lenders who compete for buyers' business and includes a real-time database that enables vendors to track and monitor the status of their customers' financing applications. APPROVE also leverages a dedicated internal team to ensure applications are processed accurately and with maximum efficiency.
The Monitor recognized that APPROVE's software-as-a-service approach enables equipment sellers to set up their own virtual financing programs, driving more sales and making their equipment accessible to a wider range of customers.
For the equipment finance industry, APPROVE's approach is important because, as the trade magazine pointed out, its convenience gives the industry an opportunity to reclaim business from the credit-card and merchant services industry, particularly for small- and micro-ticket sales.
"At APPROVE we are always looking for ways to solve problems and improve the status quo…and we're very proud The Monitor recognized our innovative technology and honored us as disruptors in the equipment finance industry," said Preville.
About APPROVE
APPROVE is a SaaS solution that enables equipment manufacturers and distributors to integrate financing at every point of influence in an equipment buyer's journey. APPROVE leverages a curated network of lenders and uses sophisticated technology to match customer finance applications with the ideal lending solutions. APPROVE was launched following the success of KWIPPED Inc., a technology company that maintains a B2B equipment marketplace where suppliers and lenders compete to serve the needs of equipment buyers. APPROVE and KWIPPED are based in Wilmington, N.C.