'APPROVE on the Move' mobile app helps equipment sales teams offer financing with ease
June 15, 2022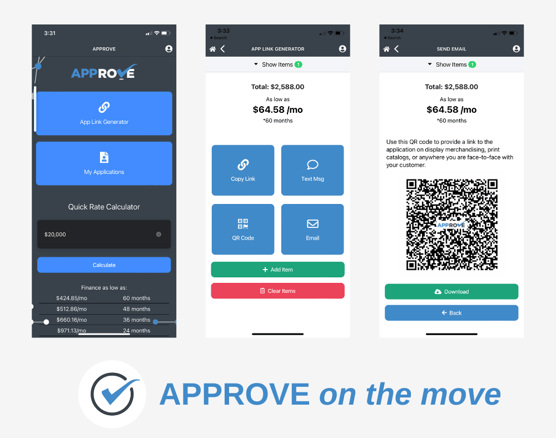 Wilmington, N.C.; June 14, 2022 – APPROVE Payments today launched a mobile app designed to let equipment sales professionals easily see up-to-the-minute information on pending financing applications for their customers, no matter where their work takes them.
The APPROVE on the Move app is available for both Apple and Android platforms. It is the latest tool APPROVE has rolled out to help boost equipment sales by making it easy to present embedded financing options at every point of influence along the buyer's journey.
APPROVE functions as a built-in financing program that equipment manufacturers and distributors of all sizes are using to provide their customers easy, hassle-free and fast financing that can help them purchase equipment that is crucial to expanding their businesses.
This SaaS (Software as a Service) solution uses advanced technology to match equipment finance applications with the ideal lending solutions from its curated network of lenders. The APPROVE on the Move app helps sales professionals stay on top of their customers' applications. With the app, they can:
Get notifications about new applications, approvals, funding status and requests for information.

Generate a financing application on the spot and share it via text, e-mail, QR code or web link.

Calculate monthly financing costs to help potential customers better understand their buying power.
"It's like having an entire financing department at your disposal everywhere you go," said APPROVE CEO Robert Preville. "We believe strongly that a financing-forward approach to sales leads to more equipment sales, and we are constantly watching how our customers use APPROVE and building tech solutions that can help support their work."
In addition to the mobile app, APPROVE recently launched a Chrome extension that allows equipment sellers to embed financing estimates and application links in sales quotes with just a few clicks. APPROVE also offers its clients a customer-facing financing application builder that allows customers to create their own custom financing quotes while browsing an equipment dealer's website.
"We know from industry research that the vast majority of B2B equipment purchases are made with financing, yet very few equipment sellers proactively offer financing during the sales process," Preville said. "We bring financing to the forefront of the buyer's journey by embedding financing estimates linked to a digital application at every B2B point of sale. This new app is one more tool to help equipment suppliers and dealers keep track of those financing applications."
Customers can download APPROVE on the Move from the App Store or Google Play.
About APPROVE
APPROVE is a SaaS solution that enables equipment manufacturers and distributors to integrate financing at every point of influence in an equipment buyer's journey. APPROVE leverages a curated network of lenders and uses sophisticated technology to match customer finance applications with the ideal lending solutions. APPROVE was launched following the success of KWIPPED Inc., a technology company that maintains a B2B equipment marketplace where suppliers and lenders compete to serve the needs of equipment buyers. APPROVE and KWIPPED are based in Wilmington, N.C.