APPROVE Speeds Vendor Sales with Automated Financing Approvals
February 8, 2023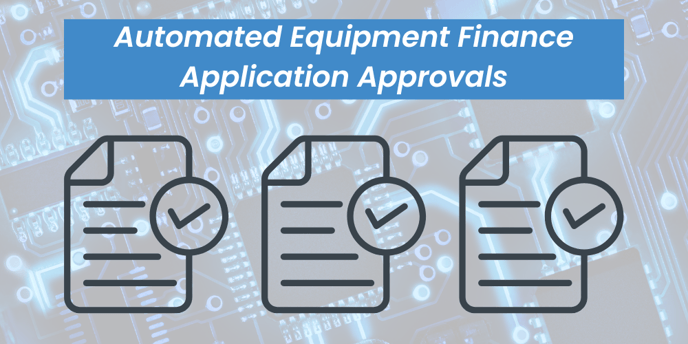 Wilmington, N.C.; Feb. 08, 2023—APPROVE's tech-driven platform for equipment finance now enables qualifying buyers to receive automated financing approvals in a matter of seconds. APPROVE's API allows lenders that wish to participate to easily link to this automated technology. This new capability is the latest in a suite of features APPROVE has added to help equipment sellers find greater success across all sales channels.
Automated financing approvals give equipment buyers important information about their buying power at a crucial point in the sales process. By eliminating unnecessary manual human interactions this feature can reduce ecommerce cart abandonments and capitalize on momentum in the buyer sales process.
The automated capability applies to micro-ticket sales of $25,000 and below, and to buyers who meet the credit standards for automated approvals among participating lenders in APPROVE's lender network. For these sales, automated approvals reduce the wait time buyers typically experience from hours or days to just seconds. Buyers receiving automated approvals may also receive approvals from competing lenders that are not connected to APPROVE's automation API.
For approvals that are not automated, buyers still receive the fast, easy experience of obtaining financing through the APPROVE platform, which uses machine learning to match buyers in all credit categories with a curated network of lenders. APPROVE makes it easy for equipment sellers to show buyers instant financing quotes, quickly generate digital, web-hosted applications, and receive real-time updates when customers are approved for financing. APPROVE backs up its tech-powered platform with a dedicated financial operations team, ensuring all applications get the attention and support they need.
"We are excited to help more equipment sellers access the power of tech-enabled financing, which is rapidly changing the equipment sales process," APPROVE CEO Robert Preville said. "Automated approvals can be a powerful way to empower equipment sellers to increase conversions and reduce online cart abandonment on smaller-ticket sales."
Automated approvals are the latest in a series of new capabilities APPROVE continually adds to its platform, as the company works toward its goal of an instant and seamless equipment financing experience. APPROVE also supports equipment sellers with a mobile app that lets them track deals from anywhere, a Chrome extension that can generate custom digital finance applications with just a few clicks, and a white-labeled virtual captive finance program that strengthens OEM-to-Distributor relationships by enabling OEMs to easily share completed customer finance applications with the appropriate distributors.
About APPROVE
APPROVE is a SaaS solution that enables equipment manufacturers and distributors to integrate financing at every point of influence in an equipment buyer's journey. APPROVE leverages a curated network of lenders, using machine learning and automation technologies to match customer finance applications with the ideal lending solutions. APPROVE was launched following the success of KWIPPED Inc., a technology company that maintains a B2B equipment marketplace where suppliers and lenders compete to serve the needs of equipment buyers. APPROVE and KWIPPED are based in Wilmington, N.C.