Fintech startup APPROVE gets $3M - plans to 3X its Wilmington, NC workforce
June 1, 2023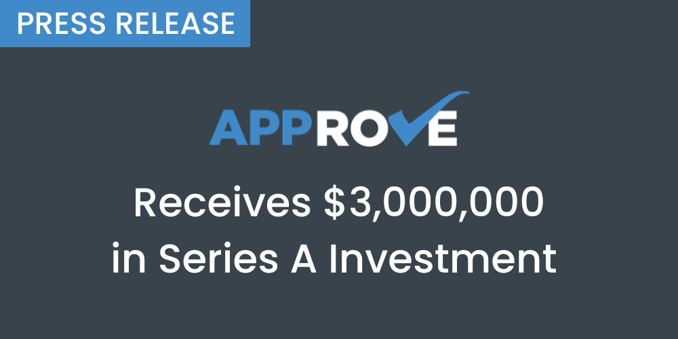 Wilmington, N.C.; June 01, 2023—APPROVE will bring as many as 50 new tech jobs to this coastal city in the coming months, as the company embarks on an expansion fueled by a $3 million Series A funding round recently completed with support from Cofounders Capital, Live Oak Ventures and VentureSouth. Live Oak Ventures, the investment arm of Live Oak Bancshares, Inc., and VentureSouth have both made previous investments in the company.
APPROVE has seen rapid growth in adoption of its fintech embedded finance platform for equipment sellers since its launch in early 2022. An innovative approach to removing the pain points from the process of financing equipment has made the company a recognized disruptor in the equipment finance industry.
"We are very excited about our new partnership with Cofounders Capital and the expanded investment from Live Oak and VentureSouth," said APPROVE CEO Robert Preville. "Investments from reputable firms such as these bring experience, talent and big ideas to Wilmington, NC and challenge the expectation that innovation can only be fostered in larger cities or tech centers."
APPROVE is currently acquiring approximately 40 equipment distributors as new customers each month. Originations on the APPROVE platform grew 97% year-over-year in the first quarter of 2023 compared with 2022. First-quarter originations were 30% higher than the fourth quarter of 2022.
"VentureSouth members have enjoyed watching Approve's consistent growth since we first invested in the company, and we are excited to have the chance to continue supporting the company in this next phase of expansion," said Paul Clark, a partner at VentureSouth.
This growth has been driven by a team of 20 employees working out of offices in downtown Wilmington's historic Cotton Exchange complex. With this most recent funding round complete, APPROVE plans to more than double its Wilmington-based workforce, bringing on 40 to 50 new employees. The company is hiring account executives, finance operations coordinators, a digital marketing manager and multiple developers. APPROVE's leadership team is actively seeking office space to expand its Wilmington headquarters.
"We have known Robert and the team at APPROVE for a number of years and have been impressed, not just by the business they have built, but also the tremendous team and culture," said Tobi Walter, a partner with Cofounders Capital. "We are incredibly excited to make our second Wilmington-based investment and to work with the team on a desperately needed solution in the B2B equipment finance market."
Preville said the new capital enables the company to pursue an aggressive customer acquisition and product innovation strategy that will bring APPROVE's industry-disrupting software to more equipment sellers in foodservice, construction, manufacturing and many other industries.
The new hires will triple the size of the sales team, provide new resources for marketing and expand the development team—a move that will enable faster implementation of the product features APPROVE plans to introduce as it pursues a long-term vision of making the process of financing equipment "as easy as using a credit card," in Preville's words.
"The amount of innovation that has already taken place at our company on limited resources is incredibly impressive," Preville said. "We now have the resources to attract and invest in local talent who can accelerate that innovation and deliver on a war chest of new ideas."
APPROVE's planned hiring marks a major expansion of Wilmington's growing fintech startup scene. Live Oak's support of APPROVE builds on its track record of backing Wilmington startups, including nCino and Apiture.
"When we made our first investment in KWIPPED in 2019, we believed the company had immense potential to provide solutions at scale, and here we are a few years later with an exciting expansion as the APPROVE platform has grown out of KWIPPED's model," said Live Oak's Chief Strategy Officer Stephanie Mann. "We see significant value in investing in companies that support small business growth, and as a fellow
Wilmington business, are delighted to invest in next-generation platforms and exceptional leadership teams that contribute to our local fintech ecosystem."
About APPROVE
APPROVE is a SaaS solution that enables equipment manufacturers and distributors to integrate financing at every point of influence in an equipment buyer's journey. APPROVE leverages a curated network of lenders and uses sophisticated technology to match customer finance applications with the ideal lending solutions. APPROVE was launched following the success of KWIPPED Inc., a technology company that maintains a B2B equipment marketplace where suppliers and lenders compete to serve the needs of equipment buyers. APPROVE and KWIPPED are based in Wilmington, N.C.
About Cofounders Capital
Cofounders Capital is now investing out of its third fund focused on B2B software ventures in the Southeast. Created in 2015, the firm is former entrepreneurs turned investors who actively help startup founders by leveraging their own experience and network. For more information, visit cofounderscapital.com.
About Live Oak Ventures
Live Oak Ventures, a wholly owned subsidiary of Live Oak Bancshares (NYSE: LOB), is a fintech-focused investor that aims to bring innovation and performance excellence to the forefront of the banking industry. By investing in companies that accelerate the delivery of open digital solutions to the market, Live Oak Ventures intends to change the landscape of financial services and small business banking.
About VentureSouth
VentureSouth is an early-stage venture firm that provides capital and expertise to Southeastern startups through its angel investment network and funds. VentureSouth has grown to include more than 450 active investors, making it one of the largest angel investor groups in the United States. To date, VentureSouth has invested more than $75 million in more than 100 companies.