KWIPPED Receives Funding from Wolfpack Investor Network
November 1, 2017
Contact: Robin Salter | 910-350-3203 | rsalter@kwipped.com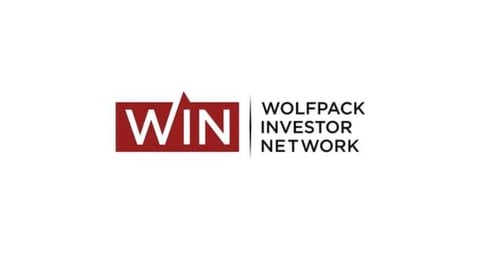 WILMINGTON, NC; November 01, 2017 – KWIPPED Inc., the Wilmington, NC-based tech startup, received investment funding from the Raleigh, NC-based Wolfpack Investor Network (WIN). The investment, which involved the Endowment Fund for North Carolina State University, an institutional member of WIN, is part of a bridge round between KWIPPED's series seed round and their anticipated 2018 Series A round. The series seed lead investor, Greenville, SC-based VentureSouth, also participated in this bridge round.
"During the process of presenting KWIPPED to the group at WIN, it was clear from their questions and feedback that they really understand our business model, the problem we're solving, and the value our platform delivers to our customers. We're thrilled that the investors at WIN share our confidence in KWIPPED's growth potential and we consider it a privilege to partner with such a reputable organization made up of so many highly respected individuals," said KWIPPED CEO and Co-Founder, Robert Preville.
KWIPPED's online platform facilitates equipment rentals and leases between businesses and organizations that need specialized commercial equipment and a global network of qualified, registered KWIPPED suppliers. KWIPPED offers equipment rentals and leases across thousands of equipment categories in more than 20 industries including: medical and laboratory, audio-visual, construction, surveying, film production, power utility and many more.
"We plan to leverage the funds to grow our supply chain and enhance our technology in order to meet rapidly increasing user demand," said Preville.
KWIPPED currently has more than 600 registered equipment suppliers and more than 5,000 registered rental customers, including well-known brands and organizations like: Apple, SpaceX, Lockheed Martin, Coca-Cola, Siemens, General Motors, The U.S. Navy, General Dynamics, and more than 100 Universities including: Harvard, Yale, MIT, Duke and North Carolina State.
According to WIN Managing Director, Joe Sinsheimer, "KWIPPED's unique, tech-driven business is solving a real problem that exists for professionals across many industry verticals. Their business' proven performance and rapid growth in the massive equipment rental and leasing markets gives us a lot of confidence in their potential for success. We're excited to support KWIPPED's experienced team and help them achieve their impressive goals."
About KWIPPED
KWIPPED, Inc. developed and maintains the world's first comprehensive B2B online equipment rental and leasing marketplace. KWIPPED technology streamlines sourcing from a global network of equipment suppliers, reduces risk, assures quality and facilitates trusted relationships between renters and suppliers. KWIPPED's worldwide headquarters is located in Wilmington, NC. For more information, call 800.273.8404 or visit www.kwipped.com.
About WIN
The Wolfpack Investor Network (WIN) is an initiative focused on connecting 100+ alumni investors with promising North Carolina State University-affiliated startup companies to facilitate angel investments. The North Carolina State University community offers a uniquely powerful opportunity for networking and guidance from industry experts and successful entrepreneurial leaders. WIN members work actively to connect WIN portfolio companies with the Wolfpack Investor Network to foster collaboration and further success.