APPROVE Data Confirms Post-Pandemic Recovery Trend for Restaurant/Food Services Industry
July 28, 2021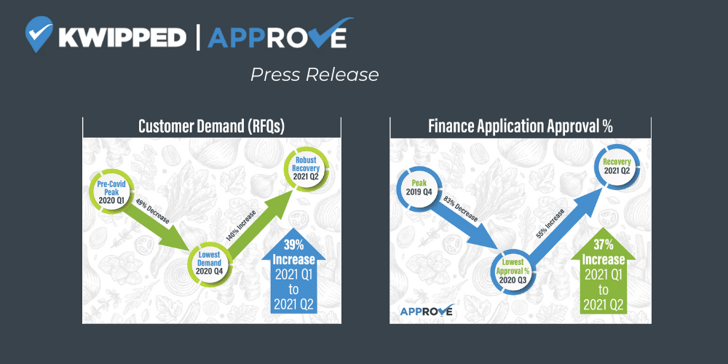 Wilmington, NC — July 28, 2021 — Purchasing activity and financing approval rates in the foodservice equipment industry are rebounding at a rapid pace, evidence that restaurants are staging a strong comeback from the Covid-19 pandemic, according to data released this month by KWIPPED Inc., which runs an online B2B equipment marketplace and fuels equipment-financing deals through its SaaS solution, APPROVE.
"Our tech supports equipment rentals, purchases and financing for hundreds of restaurant and foodservice equipment sellers, and we work with a large network of equipment finance companies, so our data offers a comprehensive perspective of macro and micro trends in the foodservice equipment market," explained Travis Sherbine, KWIPPED's Chief Growth Officer.
The following trends are based on more than 8,000 foodservice equipment requests for quotes (RFQs) over the past two years:
Demand for foodservice equipment (measured in RFQs) dropped drastically during restaurant shutdowns caused by the Covid-19 pandemic but has bounced back in 2021. KWIPPED's data shows:
● RFQs decreased by 49% over the period running from just prior to the onset of the pandemic in Q1 of 2020 to Q4 2020, when they reached their lowest level.

● From that 2020 low point to Q2 2021, KWIPPED's marketplace data shows a 140% increase in RFQs for foodservice equipment, indicating a strong rebound in the industry.

● Momentum has been strong in 2021, as KWIPPED data shows a 39% increase in RFQs from Q1 2021 to the present (Q2 2021).
Specific equipment categories experiencing the largest recovery numbers include commercial refrigeration, beverage machines and mobile equipment that can support outdoor service and events such as mobile cold storage units and food trucks.
"The mobile equipment category is absolutely exploding due to the reopening of public events like sports, festivals and and concerts," said Sherbine.
As lenders tightened their approval criteria during the pandemic, restaurant and food service equipment financing virtually disappeared, but the data shows a strong resurgence that continues to trend toward pre-pandemic levels:
● There was a 58% decrease in finance application approval rates from Q4 2019 to Q2 2020, when approval rates reached a low point.

● Finance application approval rates increased 76% from Q2 2020 to present (Q2 2021).

● Approval rates have increased 37% from Q1 2021 to present (Q2 2021).
"All of the finance companies in our lender network have told us they are approaching pre-pandemic approval levels, and our internal data confirms it. Not many industries escaped the negative impacts of Covid-19, but the restaurant and hospitality industries were hit as hard as any other, and it's really great to see them bouncing back," Sherbine said. "We feel that leveraging the collective capacities of a network of lenders is a really smart way to optimize approvals and ensure restaurants and foodservice businesses are getting the lowest possible rates—and we consider it a privilege to help the industry recover."
About KWIPPED
KWIPPED, Inc. is a technology company specializing in B2B equipment e-commerce. KWIPPED developed and maintains the world's first online B2B equipment marketplace (www.kwipped.com) where equipment suppliers and lenders compete to serve the needs of equipment buyers. KWIPPED developed the APPROVE software solution, (www.kwipped.com/approve), built from the best practices driving our marketplace, to empower equipment sellers to increase their own equipment sales. KWIPPED's worldwide headquarters is located in Wilmington, NC.
Contact: Robin Salter, CMO
Phone: 910-350-3203
Email: rsalter@kwipped.com