Download the APPROVE on the Move mobile app now!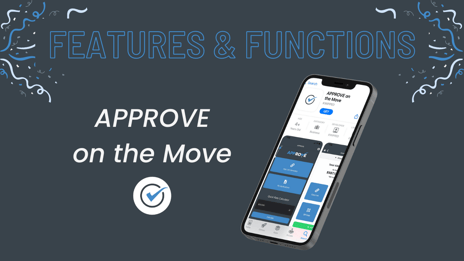 Many APPROVE users spend time out in the field and on the go, which is why we're thrilled to offer a powerful APPROVE Mobile App called, APPROVE on the move, exclusively for APPROVE users.
Download the free app right now and you'll carry the power of the APPROVE equipment financing platform in the palm of your hand. No matter where you are, with a few screen taps you'll be able to:
>> Create links to custom digital finance applications in seconds and share them right from the app.
---
>> Enter equipment prices into the Quick Rate Calculator to calculate estimated monthly finance payments.
---
>> Receive notifications when new finance applications have been submitted, approved and funded.
---
Download the app in seconds...
If you're not on your mobile phone grab it and visit the App Store (ios) or Google Play Store (Android) and search for

"APPROVE on the Move".
Tap to download/install the app and when prompted, enter your email (you must have an APPROVE account to install the app).
Choose to receive your verification code by email or text and enter the verification code in the appropriate field.
That's it...you're ready to provide your customers with the affordable financing they want and need from anywhere!

If you have questions contact your AE or our support team.


Thanks for being an APPROVE user!